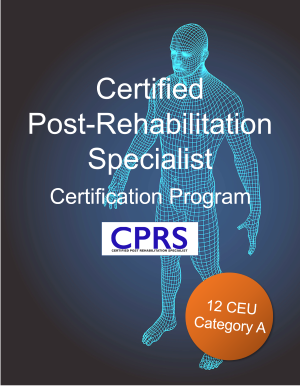 Certified Post-Rehabilitation Specialist Program
SKU CPRS210101
Product Details
Become a Certified Post-Rehabilitation Specialist (CPRS) and earn continuing education. Augment your professional mastery of functional anatomy and biomechanics behind both everyday and sport movement, including:
Joint mechanics, connective tissue, and muscles required with movement;

Biomechanical analysis of prime movements (i.e., squat, lunge, diagonal forward, and reverse lunge);

Recognizing normal vs. abnormal movement patterns;

How to assess, correct, and apply this knowledge with research;

Designing effective programs based on the principles of Periodization Training and Tudor Bompa;

Identifying weak links in the body and common movement dysfunctions affecting the neuromuscular, musculoskeletal, cardiopulmonary, and special populations; and

The foundation of science, assessments, and application science of human movement.
The CPRS program, designed and delivered by Pinnacle Training & Consulting Systems provides a convenient, comprehensive and engaging online process:
Home Study Courses: Access 10 home study courses (comprised instructional video, workbook and practice quiz). The home study courses prepare you for the 125 multiple-choice test and Skills Assessment (oral exam and practical exam). Videos are downloadable, so you can view and learn from anywhere--no internet connection required. View home study course info here.

Test: Review your knowledge with a 125 multiple choice exam.

Review Seminars: Benefit with an online, engaging, real time, 2-day seminar with Chris Gellert, PT, MMusc & Sportsphysio, MPT, CSCS, C-IASTM, CPC / Pinnacle Training & Consulting Systems, LLC / Founder and CEO. View more seminar info here.

Exam: Oral exam and practical exam.
Conveniently earn BOTH your CPRS and continuing education units for these professional boards: NATA-BOC 12 CEU | ACE 3.5 CEU | NASM 1.9 CEU | NFPT 4 CEU | NSCA 1.9 CEU
Learning objectives:
Identify the foundational anatomy and functional anatomy behind both daily and sport-specific movements.

Perform common muscle length assessments of the lower body and functional assessments of the shoulder and spine.

Differentiate how the joints of the ankle, knee, hip, shoulder and spine move.

Perform a musculoskeletal movement screen after completing the CPRS certification.

Interpret recognizing normal vs. abnormal movement patterns, and be able to modify and select appropriate exercises.

Identify the fundamental components behind both a musculoskeletal and movement screen

Distinguish the difference between a ligament and a tendon injury.

Distinguish the difference between tissue healing vs. bone healing.

Identify the principles of Periodization Training and Program Design.

Perform a sports performance assessment using one agility, one speed and one power assessment measurement tools.

Differentiate between common orthopedic, neuromuscular, cardiopulmonary, cardiovascular and special population dysfunctions.

Design customized post rehabilitation exercise programs that are scientifically based and supported with evidence-based research for common orthopedic lower and upper body dysfunctions.
Interpret the fundamental concepts of mobility and stability as it relates to how the ankle, knee, hip, and lumbar spine move.
Defend when prescribing any exercise, and when to recognize to modify or progress based on science and evidence-based research.

Define the four key training variables, or FITT principle (Frequency; Intensity, time, type).
View the complete description and FAQ of this new CPRS program here.
Save this product for later